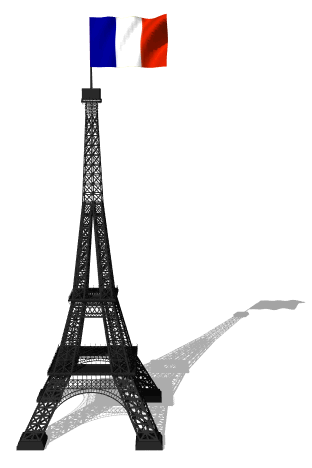 Bienvenue au site de Madame Back
Unit 4: March (Mars)
Le printemps arrive! (Spring is coming! pronounced: luh pren-tomp ah-reeve)... This month in French class we will continue to share our wonderful families with each other in the target language. We will be creating an "All About Me and My Family" booklet and sharing them with the class.
Students will be learning how to describe themselves this month. They will be able to say what color eyes and hair they have. In addition, they will be learning adjectives to describe their personalities and how they are feeling.
The students have come a long way since "bonjour!" They are having conversations with their peers in the target language, and I am very proud of them!!
Unit 3: February
(Février)
L'hiver (The winter, pronounced: l'ee-vare)...We are staying warm in French class this month learning all about la famille (the family). Students will be able to describe themselves and their family members in the target language and create their family tree.
In addition, we will be having fun celebrating Mardi Gras in class this month while learning about how it is celebrated in various Francophone cities and countries.
Unit 3: January
(Janvier)
Bonne Année! Happy New Year! I am learning a lot about the activities and sports that all the students enjoy, and they are having fun sharing them in the target language. This month the students will be interviewing each other beginning with their name, age and where they live. In addition, they will be asking each other what days, months and colors they prefer and what activities they like and do not like to do including their favorite school subjects.
Students will be learning about the Carnaval de Québec which begins this month and continues through mid-February as well as reading about Le Palais de Glace (The Ice Palace), one of the Carnaval's principal attractions.
Later this month, we will begin our unit on
Family
and traditions
.
* * *
Unit 2:
December
(Décembre)
Joyeuses Fêtes! Happy Holidays! I am having so much fun listening and watching the students present their getting to know you skits with each other. They will be bringing home review sheets to practice. Please be sure to ask them to speak/teach French to you. We are continuing our discussion on likes and dislikes this month, as well as sharing our favorite sports and activities.
The students were introduced to "Kids United" this past month. They are a French teen singing group, and some of their videos are posted on the homework section of my website. The students were able to read an article about the group in French and understand important facts about them by recognizing familiar words and cognates. I truly believe that they will be singing along with them in French shortly :)
* * *
Unit 2: November (Novembre)
Bon automne! Happy Autumn!

Thank you for following our French class on twitter! The students did great learning numbers, days, months and seasons this past month. They put it all together this past week by creating a calendar of their birthday month and by asking and saying the date all in the target language.
Our next unit is a crowd pleaser and will begin with colors. I will take this opportunity to introduce the students to some famous French artists while learning colors. They will have a conversation about the colors they like and do not like. In addition, students will be able to say what activities, subjects and sports they like and do not like.
Students will begin to create a skit utilizing all the phrases, sentences and words they have learned thus far and will enjoy presenting them to the class.
* * *
Unit 1: October
(Octobre)
Bonjour!! Follow us on twitter @madamejback. What a great start to the school year in French class. I am very impressed at how naturally the students are learning and speaking a new language. Ask them to sing the "Bonjour" song to you! In addition, ask them the following questions:
Comment t'appelles-tu? (pronounced: komo tapel too?)
Comment ça va? (komo sah vah?)
We are working on numbers, days of the week, and months this month. We will be adding to our conversation by asking and telling our age, birthday and what day it is. Please know that everything the students are learning in class can be found on my homework page. The students can practice by clicking on the Quizlet links and/or watching the video links posted there as well.
* * *
Unit 1: September (
Septembre)
Welcome (Bienvenue)!! I hope everyone had a wonderful summer! I am so looking forward to meeting my new students and sharing the French language and culture with them. I took part in a wonderful class this summer that introduced me to some great, new interactive speaking activities that I know the students will enjoy, and I am excited to start the school year!
In our first unit, students will learn how to greet each other in French. Because I would like to stay in the target language as much as possible, students will learn how to ask for common classroom supplies and say and understand commands in this unit as well. In addition, they will also be learning expressions of courtesy: please, thank you, you're welcome, I'm sorry, good luck, etc.
Each class will also include an informative segment on culture. I look forward to sharing my own experiences being raised in a French speaking home as well as traditions and customs all around the francophone world.
Please have your child go to my homework page and practice speaking French by clicking on the youtube and/or Quizlet links. In Quizlet, students can practice French by using a variety of activities, and there is a prompt that will help students pronounce the words in French too!
Please do not hesitate to call or email me with any questions or comments!
Did you know that learning a second language makes you smarter?? Take a moment to read this interesting article from the NY Times: